Regular price
RM225.00 MYR
Regular price
RM300.00 MYR
Sale price
RM225.00 MYR
Unit price
per
Sale
Sold out
Nourish your body with this essential supplement- the ultimate beauty boost for healthy skin, hair, and joints!
View full details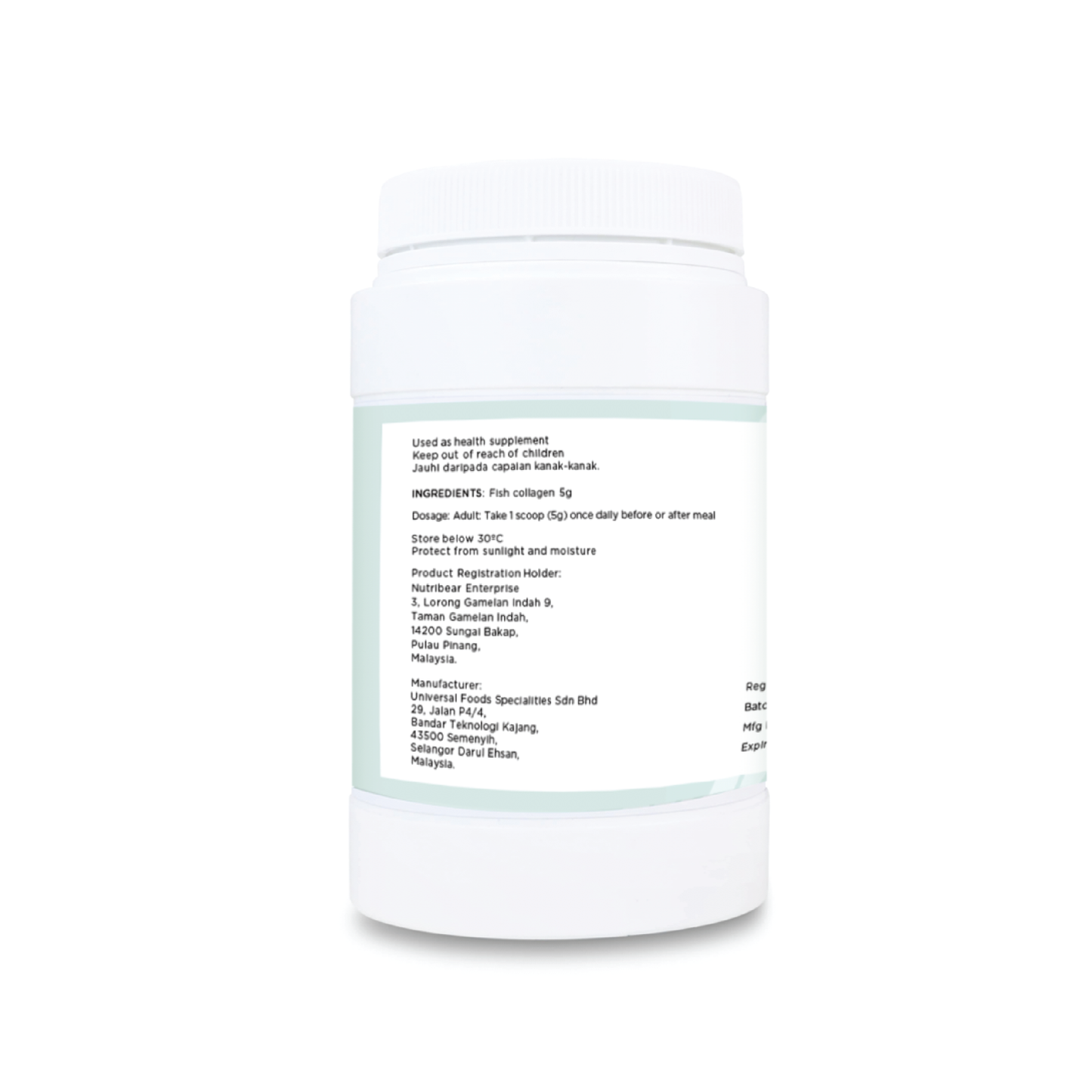 REJUVENATE YOUR BODY FROM THE INSIDE
PURITY GUARANTEED

Free of additives, GMOs, sugar, fat, gluten, dairy, soy and artificial flavours.

HIGHLY BIOAVAILABLE

Our molecule size ensures maximum absorption for optimal benefits.

QUICK MIX FORMULA

Odourless and tasteless powder that dissolves within seconds in any drink
MORE DETAILS ABOUT THIS PRODUCT
Why should I take Nutribear Essential?

Here's what happens you drink collagen our daily:

Strengthens joint & muscles so you can be more active
Hydrates skin to delay wrinkles & fine lines
Reduces cellulite for a more even appearance
Brightens your nail's surface to get rid of discoloration
Nourishes hair follicles for shiner, stronger strands
How do I use this supplement?

Mix 1 scoop into any drink, any time of the day.
Can this work with my other supplements?

When taken in conjunction with Vitamin C, hydrolyzed collagen can support the production of protein within the body - especially your skin, cartilage & organs.

When taken in conjunction with Vitamin D, Calcium, Magnesium and Zinc, it will aid in the maintenance and repair of your bones over time.

If you're looking for a more scientific dosage for you as an individual, we recommend this formula based on your body weight:

0.8g per day per kg (your weight in kgs)

Daily protein recommended will depend on the body-weight. In order to calculate the recommended protein considering collagen, multiply 0.8 by the weight in kg and then subtract 10g which equals the daily consumption of protein 0.8g/day/KG body weight.  

Disclaimer:

Results may vary from person to person. Some may see results within a month of consuming collagen, others might need more time.
What are the ingredients in this?

Extracted from the scales of freshwater fish, Nutribear Essential Fish Collagen is a pure hydrolyzed fish collagen supplement with a molecular weight of 3,000 daltons (making for easier absorption).

It contains glycine, proline, hydroxyproline, alanine, and arginine in higher-than-average doses so you can notice a visible difference in your health.